Learn How to
Wholesale and Flip Houses
Updated for 2022!
After working with hundreds of real estate investors, dealing with the legal side of real estate and being involved in countless transactions (wholesales, flips, lease options, tax foreclosure sales and more), I decided to teach the first methods that allowed me to 'take control' of my life and time!
Part I:
Wholesaling Properties – Are you ready?
Are you tired of trading time for money? What would happen if you could start with $50 and turn it into $5,000 or more? What if you could repeat this process over and over again? (several times each month!)
In Part I of this program you will learn how to wholesale properties! Wholesaling is one of the CHEAPEST and SAFEST methods to earn money in real estate. Imagine, if right now, you had an extra $5,000, $10,000, $15,000 per month or more! Would that change how you feel every morning, afternoon and night?
I know what its like to wake up and dread driving into work. I know what its like to slave from Monday to Friday, then watch your Saturday and Sunday fly by and wonder…
"Wait…Is this all there is?
So I am supposed to do this for 30 more years,

pay taxes out the nose and then one day retire?"
In truth, most people who if you work for someone else, ARE MARKING THEIR BOSSES RICH … NOT THEMSELVES OR THER FAMILIES! What about non-monetary riches? What about service? What about giving?  You may wind up giving the BEST fruits of your mind, body for the dreams of your boss or employer.  Isn't it time you learned an alternate approach?
One couple I worked with years ago, now has a successful business that helps first-time homeowners and have re-habilitated their neighborhood. They are happy, abundant and contributing greatly to the world by living their dreams…not someone else's!
If we did all the things we are capable of doing, we would literally astound ourselves.
You See…
To Get Started You Don't Need More than $50 and
You Won't Pick up a Hammer!
If you learn how to wholesale property you can quickly and safely start in real estate either full time or part time. Using the right contracts and techniques you will learn how to SAFELY and EASILY secure property under a contract. Once under contract you sell or 'assign' this contract to another investor for CASH!
HERE is the GREAT PART with the right techniques you have virtually no risk! You can safely EXIT the contract if you can't put the deal together!
You don't need more than $35 to $50, you don't need to perform repairs and you don't need to be a landlord! When you learn to wholesale properties you will understand how to create 'win-win' transactions that allow you to serve others and earn considerable profits for your efforts. Best of all wholesalers of property may be paid $5,000 to $8,000 per transaction. Once you learn the system you can wholesale between 1 to 4 properties per month:
 (4 x $5,000 each = an extra $20,000 per month!)
Imagine how things would change if this were repeated month after month. Learning these techniques can be easy, fun and exciting because anyone can start in this business. In this program you will learn the simple, step-by-step tasks and you will be astounded at how much you are learning and earning!
Stop Worrying About the Economy…
Know How to Safely Profit in Any Real Estate Market with Nearly Zero Risk!
To master the 'nuts and bolts' of single family home buying and then quickly selling!
How to earn an extra $5,000 to $24,000 per month to give you freedom!
How to wholesale houses and land with less than $50 and virtually no risk! (the upside will be $4,000 to $8,000 per wholesale flip!)
EASY TO UNDERSTAND BUSINESS MODELS to earn money flipping properties no matter your level of skill and time:

How to become a 'Match-Maker' or Scout
How to become a 'Wholesaler'
How to become a 'Retail Flipper'

Easy-to-Understand, 'Plain English' Explanations so you UNDERSTAND EXACTLY WHAT TO DO!
The legal 'tricks of the trade' TO AVOID RISK and MAXIMIZE REWARDS!
How to use ROCK SOLID contract conditions clauses that allow you to WALK AWAY from a CONTRACT RISK-FREE!
HOW TO BUILD an UNLIMITED and HUNGRY buyer's list to quickly sell your deals to! (This means quickly earning $4,000 to $8,000 per deal in the next 60 days!)
18 KEY QUESTIONS that will BRING the BEST BUYERS for a RELIABLE and PROFITABLE BUSINESS
HOW to EASILY SCREEN INVESTOR BUYERS so that you get PAID QUICKLY !
HOW TO FIND properties BELOW RETAIL over and over again to MAXIMIZE YOUR INCOME!
GROW YOUR BUSINESS!
How to QUICKLY get your wholesaling business moving! (Even if you have little to no experience!)
HOW to easily create an UNSTOPPABLE REAL ESTATE TEAM to keep you PROFITING year after year WITHOUT HIRING EMPLOYEES!
AN AMAZING and powerful SCRIPT to ALLOW you to INSTANTLY CONNECT with MOTIVATED SELLERS and GET THE DEAL!
THE '5 D's' of MOTIVATED SELLERS that WILL SAVE YOU TIME!
A 10 STEP SCRIPT for SPEAKING with MOTIVATED SELLERS that ENSURE YOU MAXIMIZE YOUR TIME!
TO BANISH confusion or doubt about the real estate market!
The 8 TELL-TALE MARKET WARNING SIGNS that you must understand to EASILY SUCCEED in real estate!
The 5 EASY STEP METHOD to calculating your OFFER PRICE like a PRO!
HOW to EASILY WALK AWAY from ANY real estate DEAL with VIRTUALLY NO RISK!
EXACTLY what your INVESTOR BUYERS NEED to PROFIT QUICKLY in the NEXT 30 to 60 DAYS!
THE TIME TESTED '5 STEP' METHOD to TAKE a DEAL or WALK AWAY!
EASY STEPS TO CONFIDENTLY meet the seller in person and CREATE a WIN-WIN DEAL for EVERYONE!
HOW to easily EVALUATE PROPERTY CONDITION even if you don't have a real estate background!
THE QUICK '9 STEP' process to INTERACT and CLOSE the DEAL with SELLERS – MINIMAL HASSLE and MINIMAL HEADACHES!
HOW TO QUICKLY determine how much is owed on a property for DEALS that SELL QUICKLY!
'COOKIE-CUTTER' approaches to determining mortgage balances that LET YOU PROFIT or MOVE ON to the NEXT DEAL!
HOW to easily COMPLETE the CONTRACT to CONFIDENCE!
'STEP-by-STEP' instruction that is SIMPLE, EASY, and ALLOWS you to WALK AWAY from the DEAL at your CHOOSING!
HOW to EASILY protect your DEAL using a SIMPLE process (this little-known technique will save your $4,000 to $8,000 many times over!)
HOW TO COMPLETE the FORMS CORRECTLY! (and all 'step-by-step' plain English details from Attorney Darius M. Barazandeh)
HOW to EFFORTLESSLY market your DEAL to a HUNGRY list of INVESTOR BUYERS!
HOW to ETHICALLY 'ASSIGN' your contract to your INVESTOR BUYER and within 48 HOURS!
A NEARLY 'AUTO-PILOT' marketing system that allows you easily 'ASSIGN' your purchase contract as QUICKLY and EASILY as possible!
How to USE the HUD-1 FORM to GUARANTEE your $4,000 to $8,000 PAYMENT for each deal is made to YOU!
WHAT you MUST KNOW about DOUBLE CLOSINGS and how to use THEM to CREATE your QUICK TURN business NOW!
HOW to AVOID the COSTLY 'LENDER SEASONING' issues that can DESTROY your deal!
EASY-to-USE POWERFUL SAMPLE CONTRACTS in both Microsoft Word® and HARD COPY, that are PRO-BUYER and PRO-SELLER! (Sell your contract to an INVESTOR BUYER with PROTECTION and CERTAINTY!)
and MUCH, MUCH MORE!
Part II:
When You Are Ready to Move Beyond Wholesaling…

Learn How to Complete Short Sales with Lenders!
There are countless opportunities for profit no matter what the market is doing. However, due to conditions in the sub prime mortgage industry and increased inflation, the next 5 to 6 years will present even more opportunities to profit in real estate!
At the moment families are hurting under the heavy burden of mortgage payments that are too high. For some the only alternative is to succumb to foreclosure. Foreclosure nearly destroys credit and in most situations keeps individuals stuck in lower economic strata generation after generation!
Despite the media reporting that the mortgage crisis is a short term 'hiccup' or 'stumble', the effects of the mortgage crisis will continue. Experts have predicted that a 'ripple effect' will present increased distressed properties for years to come!
The 'New Market' of Real Estate:
The Wave of Foreclosures and Defaults

Will Continue!
The Loan Performance Corporation and other industry experts have indicated that the 'ripple effects' will continue. The cumulative result of the sub prime collapse will present continued waves of defaulted and pre-foreclosure properties.
Families are facing ever-growing threats of foreclosure.
With 'Correct' knowledge you can profit and help others…
Result: More Opportunities to Build Wealth and Serve 
…Education is Power!
Using a process called 'discounting' or 'short sales', you can exponentially increase your profits per transaction. We will show you exactly how to use 'discounting' of the loan balance to 'unlock' tens of thousands of dollars. You will KNOW how to take a property with little profit potential and turn it into a great deal. You will never view money and wealth in the same way again! You will receive written step-by-step instruction, forms, audio discussions that walk you through the entire process and much, much more!
Help homeowners who are facing foreclosure, yet at the same time vastly increase your profit potential on each wholesale transaction.
Never View Money The Same Again…with the
Wholesaling & Flipping Course You Will KNOW:
How to GET BANKS to NEGOTIATE for CENTS on the DOLLAR for DEBTS and CREATE INSTANT EQUITY!
How to ETHICALLY work with those FACING FORECLOSURE SAFELY and ETHICALLY!
How to OBTAIN the DEED to a property and EASILY begin the short sale process!
HOW and WHEN to complete a SPECIAL CONTRACT for SHORT SALES (includes sample form and step-by-step instructions)
The EXACT, STEP-by-STEP process of adding $10,000 to $50,000 of profits to YOUR REAL ESTATE DEALS!
How to COMPLETE the suggested disclosures to PROTECT YOURSELF and BEST SERVE the SELLER!
WHEN to use a LIMITED POWER of Attorney form that will SAVE YOU THOUSANDS or MORE! (includes sample form and step-by-step instructions)
EXACTLY how to CONTACT LENDERS and GET THEM EAGER to WORK with YOU!
EXACTLY what to say to the BANK to SKYROCKET your RESULTS!
The 'Nuts and Bolts' of COMPLETING and SUBMITTING a WINNING SHORT SALE PACKAGE – Step by Step Instruction!
HOW to EASILY CALCULATE your OFFER to the BANK!
COMPLETING the HUD-1 FORM (includes fill-in HUD-1 Form – Many fill in HUD-1 program alone cost $49 or more! – OURS IS INCLUDED!)
How to EASILY obtain comparable SALES DATA to SUBMIT with your OFFER!
How OBTAIN HARDSHIP letters from the BORROWER that GET RESULTS
(learn the 2 magic words that cause lenders to take notice!)
What the 1099-C Liability Issues are for the Borrower and How to AVOID RISK in this AREA!
HOW to MONITOR the Broker Price Opinion and add $10,000 to $50,000 (or more) in profit to your DEALS!
THE SECRETS of NEGOTIATING with the Banks for WIN-WIN DEALS!
HOW TO HANDLE COUNTER OFFERS!
THE SHORT SALE exit STRATEGIES for the NEW and ADVANCED INVESTOR!
How to EASILY complete and USE the 'A to Z' SHORT SALE FORMS! (all in Microsoft Word® and HARD COPY format with step-by-step instructions on Audio CD and in out easy-to-understand step-by-step manual!)
and MUCH, MUCH MORE!
Do You Want to Fix-Up Properties and Hold Long-Term?
Keep Reading Because You Will Learn:
Part III:
Reducing Lawsuit Liability and Tax Traps!
Also Included!
The 'new market' will allow you to increase you income and attain wealth. Liability and tax risks can destroy your success. You will learn how to avoid both tax traps (that can destroy up to 45% of your profits) and also liability traps that can created nearly unlimited lawsuit liability for you!
What is this worth to you, your family, and your peace of mind?
Remember, its Not What You Earn…Its What You Keep:
LEARN HOW to EASILY structure your wholesale and flipping business to save $5,000 to $9,000 per year!
LEARN HOW to SAVE THOUSANDS OF DOLLARS in PROFITS IMMEDIATELY!
AVOID the TAX TRAPS that SHORT TERM real estate investors face – (this technique can easily save you thousands or tens of thousands of dollars per year!)
MASTER the business risks you MUST AVOID in order to PROTECT YOURSELF and YOUR FAMILY!
LEARN HOW LLC protection can SAFEGUARD your BUSINESS!
MASTER the TRUTH ABOUT Nevada LLC's which the Nevada promoters rarely tell you!
KNOW WHERE to CREATE an LLC and WHY!
UNCOVER the COMMON lawsuit liability traps to avoid and how to begin BULLET-PROOFING your BUSINESS NOW!
and MUCH, MUCH, MORE!
ORDER TODAY AND RECEIVE:
Updated for 2022!
  Using a SELF DIRECTED IRA FOR REAL ESTATE INVESTMENTS!
(a $79.97+ Value!...Yours FREE!)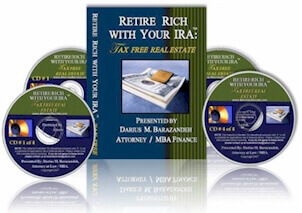 Would you like to learn the Step-by-Step approach to using TAX-FREE Individual Retirement Accounts to Invest in real estate?
For a limited time we are included our popular program FREE with your order!
 Attorney Secrets to Quick Cash Wholesaling and Flipping Houses!
A 287 page easy-to-follow manual that will show you how create an ETHICAL and PROFITABLE real estate business starting with NOTHING! You will learn how to wholesale property and earn $4,000 to $8,000 per transaction, while putting up less than $50! Truly this is LOW RISK real estate investing!
Attorney Secrets to Quick Cash Wholesaling and Flipping – AUDIO CDs!
MORE THAN 4 1/2 HOURS OF EASY-TO-FOLLOW INSTRUCTION! Includes step-by-step instruction on starting your real estate business from SCRATCH, creating a BUYER'S LIST, FINDING SELLERS, negotiating CONTRACTS, and MUCH MORE MORE! All of it delivered in 'PLAIN ENGLISH' with case easy-to-follow instructions that take your 'step-by-step' to SAFELY and EASILY secure property under a contract. You then sell or 'assign' this contract for CASH!
 More Than 20 Fill-in Forms in Microsoft Word® and Hard Copy Format:
Property Evaluation Checklists
Authorization to Release Loan Information
Real Estate Purchase and Sales Agreement (PRO-BUYER for wholesaling)
Affidavit and Memorandum Affecting Real Estate
Assignment of Contract
Sample Settlement Statement HUD-1 with Assignment Fee
Real estate purchase and sales agreement (PRO-SELLER for 'flipping' to Investor)
Release of Liability Form
Quit Claim Deed
Joint Venture Agreement (to reduce liability exposure when working with investors)
Sample Lead Paint Addendum
Warranty Deed
Standard Purchase and Sale Agreement (for SHORT SALES)
Contract Addendum and Disclosure
Escrow Letter and Authorization
Bill of Sale for Personal Property
Sample HUD-1 to Submit to Lender
Sample Financial Statement Worksheets
Sample Short sale Package
and More!
Liability Protection and Tax Reduction CD Training!
Learn how to AVOID lawsuit liability and tax risks when conducting short term real estate wholesaling and flipping. We also include sample forms that you can use everyday in your business. Just one of these forms would cost you $150 from your attorney! Because we want you to succeed…we have included 4 LIABILITY REDUCTION FORMS at no charge! (4 x $150 = $600)!
  Attorney Secrets to Short Sales:
Imagine learning the 'step-by-step' process of using 'short sales' to discount existing loans on property. You will learn a skill that will help homeowners in distress, but also enable you to 'UNLOCK' tens of thousands of dollars of equity in property. You will never view money and wealth in the same way again! Short sales, if done correctly, literally enable you to create money and equity out of thin air. You will receive written step-by-step instruction, forms, audio discussions that walk you through the entire process and much, much more!
 Flipper's® & Rehabber's® Cash Flow Analyzer® Software ($99.95 Value!):
Learn How to
Wholesale and Flip Houses
Course, Software and with All Listed Bonuses
We OFFER a 30-DAY MONEY BACK GUARANTEE
if you are not satisfied with the materials.
Delivery: Receive this product within 7- 10 business days, so order soon!